M for Montréal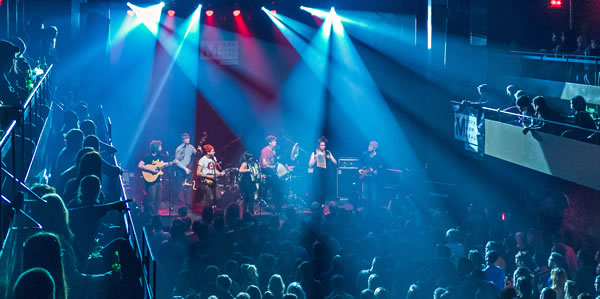 www.mformontreal.com
100 Sherbrooke east, suite 2000, Montréal, QC H2X 1C3
P: 1-514-925-0050
E: info@avalancheprod.com
Founder & Executive Producer: Sebastian Nasra
Director of Marketing & Communications: Myriam Girouard
Founded in 2006 by Sébastien Nasra (Avalanche Productions), in collaboration with the legendary British festival programmer Martin Elbourne (Glastonbury Festival, The Great Escape and WOMAD), M for Montréal is much more than an annual November event.
"M" is an independent organization whose mission is to help up-and-coming artists become better known locally, and to launch their careers outside Canada.
"M" has become an important agent for showcasing Montréal, Québec, and Canada as hotbeds of creativity and taste-making influence, and in particular for shining a spotlight on Montréal as an international meeting place for musicians and, more broadly, for global trendsetters.
Our "M on the Road" series presents showcases all around the world – Canadian Music Week and North by Northeast in Toronto, South by Southwest in Austin, The Great Escape in Brighton, Iceland Airwaves in Reykjavik, CMJ Music Marathon in New York, MaMA in Paris and throughout Quebec (Mini-M series).
Please visit our Youtube page www.youtube.com/MPOURMONTREAL.