Music Managers Forum Canada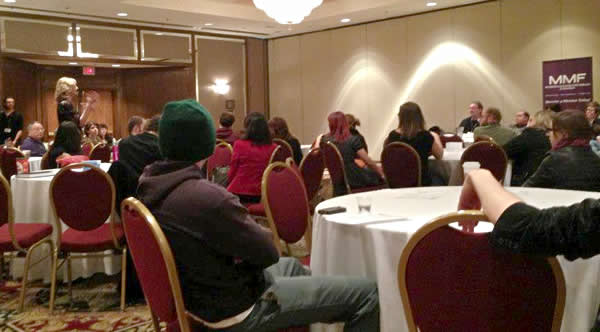 www.musicmanagersforum.ca
1731 Lawrence Ave E, Toronto, ON M1R 2X7
P: 1-416-462-9160
info@musicmanagersforum.ca
Operations, Events & Sponsorship Manager: Jordan Safer
President: Meghan Symsyk
MMF Canada is the collective voice for Canadian music managers and self-managed artists. MMF Canada is a non-profit trade association offering education, networking and advocacy on behalf of our members, their artists, and the wider Canadian music community.
We are a registered non-profit trade organization whose mission is to become the go-to source for Canadian artists and managers on issues related to music management in Canada, and around the world.
MMF Canada is a membership-based organization currently serving over 150 members who represent over 300 Canadian and International acts. Our members ranges from self-managed artists to highly experienced managers representing some of the largest acts in Canada.
MMF Canada is the Canadian voice of a larger network of Music Management Forum's from around the world. MMF Canada is committed to ensuring that artists receive their fare share of remuneration from every possible income source.
As the management sector's voice in the industry, MMF Canada acts as a lobbying force to various levels of the government on behalf of its members on key issues that affect managers and their artists.
Particular emphasis is placed on protecting artists' rights as new sound carriers and technologies are implemented.
Each year the MMF Canada hosts the Annual Honour Roll Reception and Dinner in Toronto, Ontario, where 2 awards; the Honour Roll Award and the Brian Chater Pioneer Award, are given out to seasoned music management professionals.
The Cross Country and International Workshop Series (offered in partnership with conferences and associations across Canada and the world) provides panels, seminars, roundtables and mentor sessions led by industry professionals from all around the world.
For a list of upcoming events, please see: www.musicmanagersforum.ca/event/